We all know the power of the media to tell us what's in and what's out; what's hot and what's not. And you'd have to be living under a rock to not know that all things Royal and Princess like (and thankfully a little more "classic") are soon to become even more IN than ever, thanks to a stunning young girl named Kate Middleton who's marrying her Prince Charming!
But the trick to good styling is knowing what will look hot on YOU! Being able to  sift through the fashion fads and find the styles that really work with your body,  personality, lifestyle, the occasion, climate…need I go on?
Below are some of the trends that appear to be making their presence felt this season….Ask yourself what statement you really are making with your platform soles; Beware the 3 L's – Leather, Lace & Leopard Print; And can anyone do camel & colour?
I've given you my opinion – now YOU decide!
Cold Weather Dressing:
Oh dear; here I go again. A few Style Counsel rules to adhere to this winter. Please take note. They are worth the reminder and can make the difference between stylish and oh-so not:
If it's cold enough to cover up, up top, it's cold enough to cover your toes. Even if you don't feel the cold, when the temp drops outside you look silly with exposed feet/toes. Thongs in winter are a big style no-no.
Fabric choice is key: you can still wear light colours in winter – it's the fabric choice that makes all the difference. If you are layering lighter fabrics, make sure you wear them underneath thicker, weightier choices. Scarves add texture – a tweedy-style cardi/jacket over a silky top works too.
Statement Platforms
Make sure your platforms don't overpower you/your outfit. A statement shoe is one thing – as long as they statement they make is always classy & elegant!
While it's fine to make a statement with gorgeous shoes,  be careful your shoes don't make such a statement  that they overpower your whole look & simply say "Don't I look ridiculous!"
This season, platforms are still going strong & if you struggle with super-high heels the angle of decent is lessened & they can be quite comfy.  Just be sure you don't choose circus-type stilts or  trashy styles that make you look like you should be standing under a red-light instead of strutting your style and looking/feeling confident.
Camel vs Colour
Camel is the new black. But really, has it ever been out of style?  Colour with Camel always has been a great look!
This season, camel is the new black. And colour is too.
The good thing is camel/tan has never been "out" – it's just that it's particularly trendy right now so we not only have more to choose from in the shops, but we can also feel more confident pulling out those classics we've stored in our wardrobe for years!
If you don't think tan works with your complexion or hair colour, the trick is to know whether to wear it near your face, on your lower half, or to just use it as an accessory.
Remember, colour is an accessory too! Repeat a colour twice to pull an outfit together. You don't have to match shoes, bag & belt anymore!
The other good thing about tan/camel is it works so well with colour! Brights teamed with black can make colour look cheap. Bright/jewel-tones with tan/neutrals is always Style Counsel approved!
Beware the Leopard
Animal print. Leave it on the animals I say. My opinion? Cheap and tacky. Or old-fashioned/dowdy. There. I said it!
Oh dear. Animal print may appear timeless to some because it's quite literally been around forever.
Personally, I still think zebra, leopard, cheetah, whatever animal print you choose – looks a bit cheap and tarty – and even when  we attempt to inject a touch of tribal a little more classily I still think it can just look plain "old".
There you go. I've said it. Opinions are like bums though. That's just mine…
Leather & Lace
Crisp white lace can be elegant. Cheap, tacky lace can look trashy. Identify the difference. Less is always more…
Beware too much of either. Too much leather can look try-hard biker, hooker, masculine or all of the above. While too much frilly lace can be tizzy, childish, cheap negligee-like and just plain trashy!
Be careful with pink and lace. Be careful with short skirts and lace. Be careful with leather and lace. Be careful with sky-high heels and lace – and leather. You know where I'm going with this…  Just beware you don't overdo lace and look like grandma's doily/tablecloth on legs.
The key is in the type of lace – there's cheap-looking and there's expensive-looking. Read on….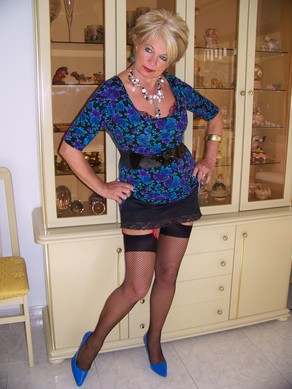 The lace trims you find on little girls dresses is what I call cheap. The fine, flat, raw-edged chantilly lace is what looks exxy and classy  but both should be in small doses only. The black lace Madonna was draped in her "Like a Virgin" film-clips…hmmm Here are some examples of both types – you make your own mind up girls!Concentrate on honing your own style and re-working classics that never date. And don't forget to smile. THE best thing you can wear anywhere is your smile!